INTRODUCTION
The Toyota Camry is not only America's best-selling midsize sedan, it's been the best-selling passenger car of any size for the past 11 years straight, and for 15 of the last 16 years. Camry sales topped 10 million in 2013, coincidentally the nameplate's 30th anniversary. One in five Toyotas sold in the U.S. is a Camry.
Clearly, the Camry appeals to a large and broad audience. Toyota claims the Camry is the safest, quietest, most fuel-efficient car in its class, and we have no reason to doubt those claims.
Camry is an attractive car, with clean sides and nice edges. Benefitting from the latest impact energy management engineering, it's built on a rigid chassis using a lot of high-strength steel and ultra high-strength steel. The interior is nice, the dashboard neat and stylish, the instrument panel pretty and functional. Storage spaces are well thought-out, and a 60/40 split rear seat is standard.
New for [...]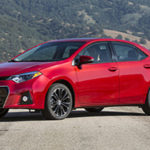 INTRODUCTION
The Toyota Corolla compact sedan offers reliable, inexpensive transportation. The Corolla delivers high value for its moderate price. It looks fresh, with crisp lines, it's quiet underway, and it boasts all the technology expected by today's compact-car shoppers. Though classed as a compact, it's not tiny.
Redesigned for the 2014 model year, the current model represents the 11th generation of the Corolla. A new Special Edition model featuring special trim joins the 2016 Corolla lineup. Otherwise, there are no significant changes for 2016. Toyota Corolla is among the best-known names in the automotive world, following decades at or near the top of the sales charts in the U.S. The Corolla nameplate has represented basic, trouble-free, and relatively comfortable motoring for 40 years.
Two 1.8-liter four-cylinder engines are used with two different transmissions. Corolla L, LE, and S models come with a 1.8-liter engine is rated at 132 horsepower and 128 pound-feet of torque. A [...]