Toyota Camry
2012-2014
INTRODUCTION
The Toyota Camry is not only America's best-selling midsize sedan, it's been the best-selling passenger car of any size for the past 11 years straight, and for 15 of the last 16 years. Camry sales topped 10 million in 2013, coincidentally the nameplate's 30th anniversary. One in five Toyotas sold in the U.S. is a Camry.
Clearly, the Camry appeals to a large and broad audience. Toyota claims the Camry is the safest, quietest, most fuel-efficient car in its class, and we have no reason to doubt those claims.
Camry is an attractive car, with clean sides and nice edges. Benefitting from the latest impact energy management engineering, it's built on a rigid chassis using a lot of high-strength steel and ultra high-strength steel. The interior is nice, the dashboard neat and stylish, the instrument panel pretty and functional. Storage spaces are well thought-out, and a 60/40 split rear seat is standard.
New for 2014 is the four-cylinder Camry SE Sport, which features the same 18-inch wheels as the V6 model, plus a power-adjustable driver's seat and power moonroof. That expands the 2014 Toyota Camry lineup to seven models, from the stripped-down Camry L to the sport-tuned SE to two versions of the environmentally friendly Camry Hybrid. Camry was completely redesigned for 2012.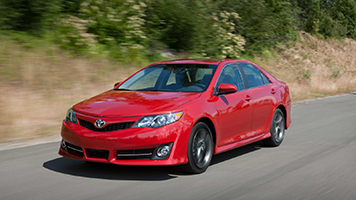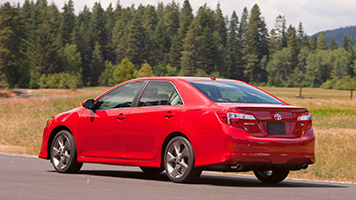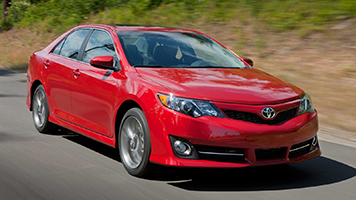 The 2014 Camry offers a choice of four-cylinder, V6 or hybrid power. The standard 2.5-liter four-cylinder makes 178 horsepower. The 3.5-liter V6 produces 268 horsepower. Fuel economy is an EPA-estimated City/Highway 25/35 mpg with the four-cylinder, 21/30 mpg with the V6, 43/39 mpg for the hybrid.
We were impressed with the smooth and responsive acceleration from the four-cylinder as well as the fuel economy. Toyota boasts a range of almost 600 miles. The V6 delivers stronger torque, so it's more powerful and more responsive around town in addition to being smoother. The tuned suspension in the sporty Camry SE might be too firm for some. We did not find the Camry SE uncomfortable, but we did find the softer Camry XLE more relaxing around town. We preferred Camry SE's tighter steering in all circumstances.
Camry Hybrid uses a 2.5-liter Atkinson Cycle engine rated 156 horsepower, in tandem with a 105 kW permanent magnet AC electric motor, which by itself can produce 199 pounds-feet of torque at up to 1500 rpm. Combined net output is 200 horsepower. The Hybrid feels like a totally different car than other models, as it slows everything down and makes the vehicle feel bigger. Toyota has been a leader in hybrid technology but the Honda Accord Hybrid seems to have the edge here. The Environmental Protection Agency rates the 2014 Camry Hybrid LE at 43/39 mpg City/Highway, and the Camry Hybrid XLE at 40/38 mpg.
The choices among midsize sedans are bigger and broader than ever and car buyers are the winners. Midsize sedans that compete with Toyota Camry include Honda Accord, Ford Fusion, Chevrolet Malibu, Nissan Altima, Mazda6, Hyundai Sonata, Kia Optima, Volkswagen Passat.
---
LINEUP
The 2014 Toyota Camry comes in seven models. The 2.5-liter four-cylinder engine and 6-speed automatic transmission are standard; V6 and hybrid powertrains are available.
Camry L ($22,235) comes standard with air conditioning with filter, fabric-trimmed front seats with seatback pockets, six-way manually adjustable driver's seat; four-way manually adjustable front-passenger seat, Bluetooth phone connectivity, 6.1-inch Display Audio screen, power windows and door locks, AM/FM/CD/MP3/WMA audio with USB port and iPod adapter, cruise control, 60/40 rear folding seats, overhead console, projector beam headlamps, 12-volt power outlet, and 16-inch steel wheels with wheel covers.
Camry LE ($22,680) upgrades with remote keyless entry, an additional 12-volt power point, auto on/off headlights, and variable-intermittent wipers. Rocker panels get a chrome insert. Camry Hybrid LE ($26,140) is equipped similarly.
Camry XLE ($24,855) upgrades further with steering wheel audio and Bluetooth controls, dual-zone automatic climate control, leather-wrapped steering wheel and shifter, power front seats, wood-style interior trim, lighted vanity mirrors, rear reading lamps, rear air outlets, power moonroof, foglamps, heated outside mirrors, more chrome trim, and 17-inch alloy wheels. Camry Hybrid XLE ($27,670) is equipped similarly.
Camry XLE V6 ($30,465) comes with the 3.5-liter V6 engine, and adds leather seats with heated front seats, auto-dimming rearview mirror with compass and HomeLink, a rearview camera, and dual chrome exhaust tips; plus touch-screen navigation; SiriusXM and HD radio; and Toyota Entune, which encompasses a range of mobile applications and data services.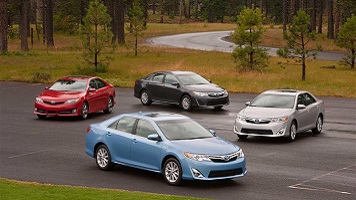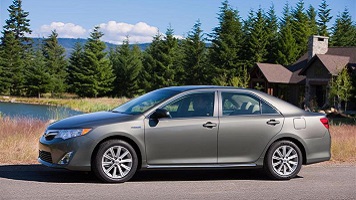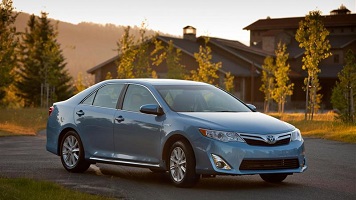 Camry SE ($23,400) and Camry SE V6 ($27,260) start with LE features but add a sport-tuned suspension, sport mesh body-colored front grille, halogen headlamps with black bezels, rocker panel extensions, rear and underbody spoilers, SofTex-trimmed sport seats, paddle shifters, leather-wrapped steering wheel with integrated Bluetooth controls, leather-wrapped shift knob, silver-grain interior trim; 18-inch alloy wheels on the V6, 17-inch on the I4. Camry SE Sport ($25,090) features the same 18-inch wheels as the V6 model, plus a power-adjustable driver's seat and power moonroof. Camry SE V6 upgrades further with touch-screen navigation, SiriusXM, HD radio, and Toyota Entune.
An optional power moonroof ($915) is available for Camry LE, SE, and Hybrid XLE.
Safety equipment standard on all models includes 10 airbags, electronic stability control with traction control, ABS with Brake Assist and Brake Force Distribution, and a tire pressure monitoring system. A rearview camera is optional as part of several option packages. Blind Spot Monitor System with Rear Cross Traffic Alert is available for XLE ($500).
---
WALKAROUND
The Toyota Camry looks svelte, with no lumpy cladding and almost no chrome. Although the surfaces flow with characteristic Toyota softness, strategically placed creases lend both definition and decision. Whatever you think of it esthetically, it works aerodynamically, charting an impressively low 0.28 Cd. Toyota calls it aero-corner design: Hips and shoulders tucked in.
Wheels help distinguish Camry trim levels. Camry LE uses wheelcovers over 16-inch steel wheels, Camry XLE uses 10-spoke 17-inch alloy wheels, Camry SE uses 17- or 18-inchers, with two different five-spoke designs. All four styles successfully avoid cookie cutting, with the least-expensive Camry LE's 20-curved-spoke titanium-tinted wheelcovers ironically being the most ambitious and eye-catching, if not the classiest.
The roofline angles the windshield steeply. There's a nice character line under the windows slanting slightly up to the rear deck, where there's a small spoiler lip on the SE. Windows are outlined in chrome, but no more, except for a thin strip at the rocker level on the LE and XLE. Body-colored door handles on all models.
The face of the Camry SE is tweaked, for the better, with body color over the black mesh grille, and more aggressive air intakes in the valance under the bumper. Headlamps are outlined in black, angled, narrow and sleek, with a neat little notch in the line at the bottom.
---
INTERIOR
Interior materials are different on different trim levels. Camry L, LE and XLE use a nice fabric, while the Camry SE uses a combination of fabric with SofTex synthetic leather trim. Real leather is standard on Camry XLE V6 and optional on the four-cylinder XLE, with leather-trimmed ultrasuede available on the SE and XLE Hybrid.
The fit of the front buckets is good on the Camry LE and XLE, with more bolstering on the SE. The Camry Hybrid has its own material, more like the SE. Trims are different too: LE is silver, XLE wood, SE silver grain, and Hybrid a metallic tech grain.
We found the driver's position comfortable, with thoughtful padding for the driver's right leg against the center console, and high armrests. Decent door pocket, great cubby forward in the center console, big glovebox with light.
Steering wheels differ on the different models, with LE a four-spoke urethane, XLE four-spoke leather, and SE four-spoke leather. They all work well enough, no inconveniences noted in driving all four models.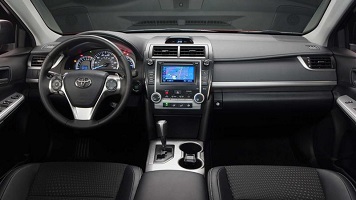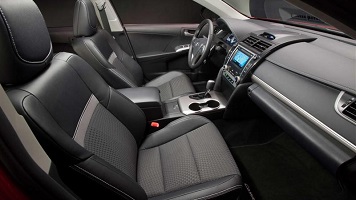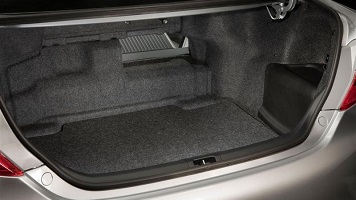 Camry LE feels quiet, solid and firm; but the XLE with optional leather and a grander display screen feels markedly uptown. It's hard to make a dashboard not boring, because after all it is a board, but the Camry succeeds. The standard leather is overlapped in an arc with neat stitching, for a saddle-like effect; new passengers will compliment it and maybe run their hands over the seam. The little window for the clock up at the top looks like a hood scoop. Instruments on most models are in 3D. The instruments themselves are the same, the only difference is in the rings around the gauges, chrome or satin.
The Hybrid's panel is the same only prettier. It has Optitron meters with white illumination, blue metallic printing, and white lighting pointer. Three gauges, with clear dials and numbers that glow up at you in crystal clear white. We like it. Cargo space in the Camry Hybrid is 13.1 cubic feet, a decent-size trunk. Trunk space on all other Camry models is a roomy 15.4 cubic feet.
The manually operated climate control has big dials and easy buttons on the Camry LE. The automatic climate control on Camry XLE uses a 6.1-inch LCD touch-screen also used for radio tuning and navigation.
In pursuit of fuel mileage, the Camry runs a numerically low final drive ratio, to reduce the revs at freeway speeds and make the car quieter inside; at 70 mph you can't hear the motor. But you can hear the tire noise. Low-rolling-resistance tires are loud on the pavement.
There's the optional JBL Green Edge sound system, which uses up to 58 percent less power and is 27 percent lighter; and Entune, which does Bing searches and allegedly enables you to buy movie tickets while you're driving into the city on a crowded freeway in a hurry at night, and stuff like that. Safely and simply they say, and we say don't believe it. It can all be bundled with navigation and satellite radio and voice recognition, and controlled on the touch screen. Have fun, good luck, and don't crash.
---
DRIVING IMPRESSION
Camry is available with a choice of 178-hp 2.5-liter four-cylinder, 268-hp 3.5-liter V6, or hybrid gas-electric using a 2.5-liter Atkinson Cycle four-cylinder with electric motor assist (200 hp net system total).
We found the standard 178-horsepower inline-4 quick, silent and smooth. On the four-cylinder Camry XLE, we noted good ratios from the 6-speed automatic, smooth upshifts and invisible kickdowns around town. To get 30 mpg with that kind of performance is great. Toyota boasts a range of almost 600 miles when averaging 35 mpg on the highway.
Four-cylinder and V6 models use a 6-speed automatic that on the Camry SE comes with paddle shifters and normal and sport modes. No problems with the way the transmission is programmed; both 5th and 6th gears are overdrives, with 6th being super overdrive at 0.608:1, for highway fuel mileage. There's a big leap between 1st and 2nd gears, which is more seamlessly handled by the 248 foot-pounds of torque from the V6.
The Camry SE suspension might be too firm for some; we didn't find it uncomfortable, but did find the softer Camry XLE more relaxing around town. We preferred the SE's tighter steering and more even keel in all circumstances. Camry's brakes felt good to us, sensitive with good feel.
Camry Hybrid uses a 2.5-liter Atkinson Cycle engine and continuously variable transmission (CVT), and feels like a totally different car than the I4 or V6. It slows everything down and it feels bigger; even the seats feel wider. Toyota claims a 0-60mph time of 7.6 seconds, which makes the Hybrid quicker than the standard four-cylinder; it just doesn't feel that way. Braking is regenerative and sensitive, sometimes diving the nose of the Hybrid. It's quieter, when you're not straining at the throttle, but the tire noise on a rough freeway is still there.
Eco mode reduces the throttle opening, slowing the car way down, although Eco defaults to Power mode when you need more speed. EV mode with a good charge couldn't get us out of the parking lot. It wouldn't even run the air conditioner with the car at a standstill.
The Hybrid is slightly more slippery in the wind, with underbody fairing panels lowering the Cd to 0.27, but a small blue badge is the only visible difference.
The Camry XLE Hybrid is EPA-rated at 40 mpg Combined city and highway, and even with 12.5:1 compression the Atkinson cycle allows the use of Regular gasoline. We actually saw 45 mpg on our test run, probably because we were aghast at the idea of booting it. We routinely achieved more than 50 mpg while driving 2014 Honda Accord Hybrid models.
---
SUMMARY
The 2014 Toyota Camry is a superb midsize sedan, with the latest chassis engineering and sleek styling. Camry powertrains are so different you should consider your needs or drive them all before you choose. The four-cylinder engine is exceptional, with good smooth response and excellent fuel economy. The 6-speed automatic transmission is smooth. The suspension is comfortable and the interior clean and convenient. Upper level models with infotainment options move the Camry upscale. Camry SE has a firmer ride and sharper steering response. Camry Hybrid keeps emissions low but doesn't offer the responsiveness of the conventionally powered models.
Sam Moses filed this NewCarTestDrive.com report from the Columbia River Gorge. John F. Katz contributed to this report.
---
MODEL LINEUP
Toyota Camry L ($22,235), LE ($22,680), SE ($23,400), SE Sport ($25,090), SE V6 ($27,260), XLE ($24,855) XLE V6 ($30,465), Hybrid LE ($26,140), Hybrid XLE ($27,670).
ASSEMBLED IN
Georgetown, Kentucky; Evansville, Indiana.
OPTIONS AS TESTED
power driver's seat 8-way ($440).
Useful Links: About Us | FAQ | We Buy Cars